Adam's Gift by Jimmy Creech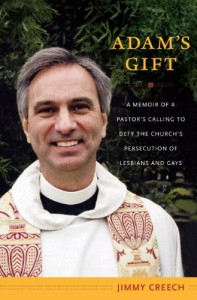 JIMMY CREECH
long time Soulforce friend and former board member
will be reading and signing his new book:
ADAM'S GIFT
Quail Ridge Books, Raleigh April 10 @ 3 pm
The Regulator, Durham April 25 @ 7 pm
The Internationalist Bookstore, Chapel Hill April 27 @ 7 pm
McIntyres Books @ Fearrington Village, Pittsboro April 30th @ 2 pm
For information about future Jimmy Creech appearances
or to book Jimmy Creech for an appearance in your town contact:
chrisweedy@gmail.com
An enthusiastic endorsement of Adam's Gift
by Mel White, Co-Founder, Soulforce
You may be standing in the aisle of a bookstore or sitting at your computer asking yourself "Why would I buy Adam's Gift, a book about one brave pastor's struggle to end "the persecution of Lesbians and Gays." Here's why: Whatever side you're on in the current civil and ecclesial debate about homosexuality and homosexuals, reading this memoir – painful page after painful page – will help you understand why Jimmy's battle to end spiritual violence is not about sexual orientation alone.
Adam's Gift is not simply the dramatic, true story of one man's courageous and sacrificial stand against denominational practices that lead to the denial of full inclusion for Lesbians and Gays. It is also an intimate and powerful look. The war being waged by Christians against the full inclusion of lesbians and gays is also a struggle for the heart and soul of the Christian church.
Don't stop reading Adam's Gift until you've been thoroughly appalled by every nasty letter Jimmy received for marrying a same-sex couple; every muttered slur or veiled threat whispered into Jimmy's ear; every prejudiced and intolerant testimony against Jimmy in the historic trial that robbed the Christian church of his powerful and prophetic ministry.
Jimmy isn't Gay. He didn't start his ministry with any thought of risking everything to take a stand on behalf of Lesbians and Gays. The chance visit of a depressed and desperate Gay parishioner set Jimmy on a journey to find out the truth about homosexuality and homosexuals. And on that journey he discovered that homosexuality is just another mysterious variation of God's creation.
But when Jimmy Creech stood in his pulpit and shared the simple and rather obvious truth that Gays and Lesbians are God's children, too, he faced a firestorm of criticism by lay and clergy leaders determined to "save the church" from homosexuals. In hoping to "save the church" they are in fact destroying it.
Adam's Gift is a dramatic and heart breaking look at what happens to Christians who get so busy enforcing their rules against the ordination and marriage of Lesbians and Gay's that they end up disobeying a far more important rule to "Love God and love your neighbor as yourself." As a result whole generations are walking away from their denominations and their local congregations in disgust at the ignorance and intolerance they see there.
Those who wage war against God's children have forgotten that the Holy Spirit has not promised to remain in the individual or corporate lives of those who do not heed Christ's warning, "If you do not love the least of these, you do not love me." If enough of us read Adam's Gift and are transformed by that greater truth, the bloody open wound that threatens the future of Christ's body the church just might be healed in time to save it.
Warning to Christian clergy, Catholic and Protestant alike: Reading Adam's Gift might transform your ministry from pastor to prophet as Jimmy Creech was transformed by one visit with a desperate and depressed gay parishioner.
Warning to Christian laity: Reading Adam's Gift might inspire you to change your relationship to the church from faithful attendee to justice seeking activist.
Warning to Christian youth and young adults: Reading Adam's Gift might make you angry enough to leave the church and seek spiritual guidance elsewhere or as in the life of Jimmy Creech stay and pay the price to change the church from within.
Warning to Christians who still believe that homosexuality is a sickness and a sin and that homosexuals should be denied the rights of full, inclusive members in Christ's body: Reading Adam's Gift might shatter your assumptions, undermine your certainty and set your feet on the journey to justice on behalf of all God's children.