Mel and his son, filmmaker Mike White, had the unusual opportunity to appear as a team on two seasons of the Amazing Race, the Emmy Award winning race around the world on CBS.
Season 14
The Amazing Race lasted for 22 days and traveled over 40,000 miles. The teams raced in nine countries, including Romania for the first time, as well as Switzerland, Germany, Austria, India, China, Thailand, Russia (Siberia) and Maui, Hawaii.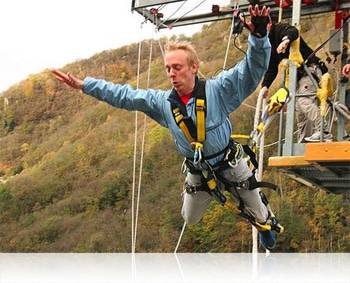 Mel and Mike took a 13-hour train ride on the Trans-Siberian Railway and got into a Siberian snowstorm with below-zero temperatures. All the teams suffered extreme climates, intense Roadblocks and less time in airports, which added up to an exhausting course for the racers.
Mike jumped face first off the world's second tallest bungee jump. Mel had to paraglide over the Bavarian Alps. Teams faced suffocating heat in India, and an Olympic-themed challenge in Russia that left the teams "gasping for air."
Mel & Mike confirmed in a post-race interview that there was an unaired, unused Fast Forward in Leg 7 that involved purchasing items for an orphanage using the team's own money. This was the first season ever where no team took the Fast Forward option throughout the race. Mel and Mike would have won that episode but thinking the Fast Forward had been taken lost the race.
Mike and his friend film director Jon Kasdan had originally been chosen to participate in the Amazing Race Season 13. But Jon opted out of the race just before starting time and Mike was eventually paired with his Dad.
The first episode was named after Mel White slid down a steep muddy hill in Switzerland carrying a 50 pound round of Swiss cheese. While other contestants were trying to walk down the hill with their heavy load of cheese, Mel sat down and slid all the way on his behind.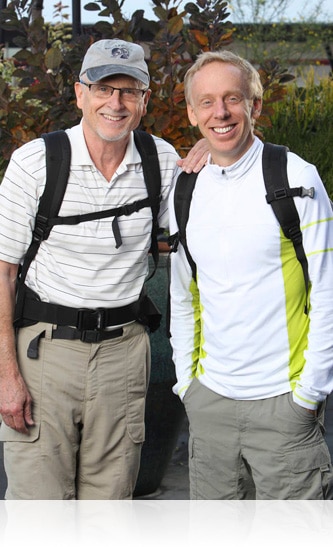 The cheeses that had been dropped when teams fell rolled and bounced down the hill at very fast speeds. Mel, while sliding, said to Mike, 'Don't let a cheese hit me,' and Episode 1, Season 14 was named with Mel's now famous quote.
In Jaipur, India, Mel and Mike had to dress in the costumes of street musicians and perform in a busy downtown intersection collecting funds for a charity.
Season 18
Mel and Mike were selected as audience favorites to participate again in Season 18, a season CBS called "Second Chances."
The race began at Wind Farm near Palm Springs, CA. During the next five weeks Racers visited Australia, Japan, Liechtenstein, China, India, Austria, Switzerland and Rio de Janeiro.
In Sydney, Mel dove into a shark tank to fish out an antique compass. Mel and Mike had to bounce across the Australian outback in Kangaroo outfits after dancing with the Aboriginal people and creating a traditional Aboriginal art piece made of stones.
Mel and Mike were forced to dress in skimpy Japanese worker underwear, enter a freezing cold muddy rice field, and find a porcelain frog (an end of the rice gathering tradition in Japan). Mel and Mike were on their hands and knees in the freezing mud for almost an hour surrounded by Japanese farms paid to throw more mud at them (another Japanese tradition).
Worrying about the decreasing state of his father's health, Mike climbed out of the pit and began to yell at the producers to get his Dad out of the mud.
The producers didn't budge. Mike yelled and threatened and eventually got them to lead Mel to dry ground where the medics found that both Mel and Mike were suffering hypothermia. They were rushed to a Japanese hospital and out of the race.
After being eliminated from both Season 14 and 18, Mike and Mel were flown (with other eliminated contestants to a beautiful resort in Phuket, Thailand, where they remained "in splendor" while the races finished.
"If we had known losing would be this wonderful," Mel said, "we would have lost much earlier…