NEW FUTURE FOR CHILDREN, CAMBODIA
Q: WHY ARE YOU AND GARY SO INTERESTED IN HELPING CHILDREN IN CAMBODIA?
A: In the 1970s during the war in Vietnam, Nixon launched a "secret war" against Cambodia dropping 2,000,000 tons of bombs on an estimated 200,000 Cambodian targets with devastating results for family life in Cambodia for generations to come.
In 1975, Pol Pot and his bloody Khmer Rouge emptied the cities, imprisoned, tortured and murdered an estimated 2,000,000 of Cambodia's best and brightest. Entire families died together in "the killing fields" effectively destroying what little remained of Cambodian family life. The US supplied Pol Pot and his carnage because he supported our side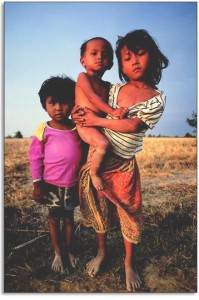 in the Vietnam war.
Currently a large percentage of the financial aid for orphans and other vulnerable children is going to Africa. The forgotten children of Cambodia – victims of their own holocaust – need our help.
Q: WHY ARE YOU SPENDING SO MUCH TIME, MONEY AND ENERGY ON THE ORPHANAGE?
A: On December 24, 2003 14-children escaped from an orphanage in Phnom Penh, Cambodia, (just before the director was arrested and imprisoned for child molestation). The orphans fled to the home of a trusted Cambodian teacher and a Dutch volunteer. The two men rented a building large enough to house all 59 orphans and applied to the government for a license.
The "accidental orphanage" begun by those two big hearted educators has one goal: help launch a new generation of self-supporting Cambodians who will bring hope to a nation that has suffered generations of hopelessness.
Named New Future for Children, this home for orphans and other vulnerable children has become a supportive, caring family for 59 children each with his or her own unique plan for becoming a self-sustaining contributing member to Cambodian society. Most of the children have been at NFC for four or more years and their lives have been transformed by the loving care and well-rounded education they have received.
QUESTION: WHAT MAKES THIS PROGRAM UNIQUE?
These orphans and other vulnerable children rescued from lives of hopelessness and despair, entered NFC far behind students of their own age and grade level. NFC offers remedial classes in English, logic, computer technology, personal hygiene, cooking and Khmer traditional dance and music.
Given the chance to "catch up" NFC children are winning scholarships to well known private and public schools. Others receive vocational training and work as apprentices in various trades. Two already attend university. One is preparing to attend the Royal Academy of Art this year.
Q: WHO PROVIDES THE FUNDS TO HOUSE, CLOTHE, AND EDUCATE THE CHILDREN
Here's the problem. New Future for Children was launched with no organizational support. For years the bills have been paid by staff members and volunteers from Europe and the US who visited NFC and were amazed and impressed by what they saw.
Several years ago, our friend and Soulforce colleague, Chris Merritt, volunteered to teach English for a few weeks at NFC. He learned that the dedicated staff had been so busy creating this special place that they had not developed a donor base. Using his savings to support NFC, Chris has moved to Phnom Penh where he serves as a guarantor that every dollar we donate goes directly to NFC
A year ago, Chris invited me to visit NFC. I too was deeply moved and impressed. For the past year, Gary and I have been the primary source of support; but now Gary and I need help in supporting these kids. We're working to find a charitable organization, a corporation and/or a family or individual who will share our vision for this place. In the meantime, Gary and I are reaching out to family and friends hoping they/you might consider helping us bring hope and healing to 59 children who will in their way bring hope and healing to their wounded nation.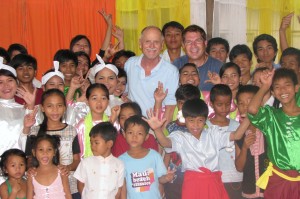 Q: HOW DO WE HELP?
To feed, house, clothe, and educate each child at NFC requires just $140 a month, less than $1700 per year.
Donations are tax deductible and I guarantee that 100% of any check made out to the KNL Foundation designated to NFC and sent to us in Lynchburg will go directly to support the children.
Q: SHOULDN'T YOU BE SUPPORTING SOULFORCE INSTEAD OF REACHING OUT TO KIDS HALF WAY AROUND THE WORLD?
Good question. Soulforce, Soulforce Q and our sister organization, FAITH IN AMERICA, have urgent needs for funding and these are our first priority. Gary and I donate a large percentage of our incomes to help us continue our campaign of relentless nonviolent resistance to religion based oppression. We are totally committed to continue the fight for justice for LGBTQ people around the world. But Gandhi made it clear, helping those who suffer injustice in practical ways is the other side of doing justice. The biblical writers talked of doing justice and loving mercy in the same breath. There may be hundreds of millions of needy children in the world but I know personally 59 of them whom I can help in practical ways. So, Gary and I are reaching out and it has already proven to be an adventure that is changing our lives.
Mel White and Gary Nixon
1125 Running Cedar Way
Lynchburg, VA. 24503
GaryNixon@aol.com
PS: Remember, donations are tax deductible and I guarantee that 100% of any check made out to the KNL Foundation designated to NFC and sent to us in Lynchburg will go directly to support the children.