When I Watched Trump Get Elected
Millions of Americans had visceral reactions to Donald Trump winning the Presidency. But for Mel White and his husband, Gary Nixon, it affected them differently than most….
Read this blazing new article, released October, 2017 (click image)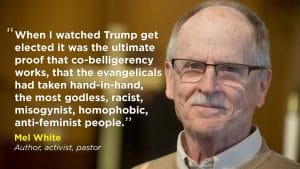 Also, check out the new lineup of short video clips where Mel "comes out" about important political/religious issues facing America right now in 2017
Click below to visit Ryan Kohls YouTube Uploads Page, where Mel's latest videos are currently featured at the top of the page
Editor's note: Ryan Kohls, the interviewer and founder of What I Wanna Know, is a producer for "UpFront," a current affairs program on Al Jazeera English.